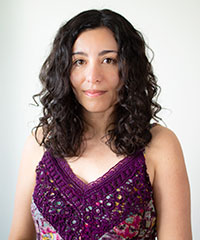 Postdocs
PhD in Education, Universidad Alberto Hurtado / Universidad Diego Portales, Chile (2020)
Bachelor of Education - Teacher of Secondary Education in Mathematics and Physics, Universidad de Chile (2010)
Bachelor of Science, Universidad de Chile (2009)

Works at:
CMM Education
Research interests:
Investiga sobre la enseñanza y el aprendizaje de la matemática a nivel escolar, impartiendo cursos relacionados con esos tópicos en el programa de Pedagogía en Enseñanza Básica de la Universidad de O'Higgins.
Su investigación ha estado centrada en el desarrollo del pensamiento matemático creativo en el aula escolar, metodologías basadas en Resolución de problemas, creencias y conocimientos del profesorado y aprendizaje desde un enfoque sociocultural histórico.
Ha desarrollado publicaciones en revistas nacionales e internacionales especializadas en enseñanza y aprendizaje de la matemática. También ha participado como investigadora en diversos proyectos enfocados a profundizar en el aprendizaje escolar y el desarrollo de los docentes.
pauaraya (at) dim (dot) uchile (dot) cl
+56 2 2978 0617
office: 714

Comments:
Under the supervision of prof. Salomé Martínez. This postdoctoral research received funding from Fondecyt.