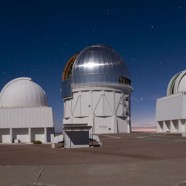 The Institute for Applied Computational Science (IACS) of the School of Engineering and Applied Sciences (SEAS) at Harvard University and the Center for Mathematical Modeling (CMM) of the School of Engineering and Sciences (FCFM) at the University of Chile (UChile) are partnering together to provide a team-based intercultural learning experience during the (Chilean) summer period (Jan 2014).
Six Harvard students will work together with six Chilean students in three interdisciplinary teams on a real-world computationally challenging problem drawn from the data of a cutting-edge astronomical instrument, the Dark Energy Camera (DECam). The trip will include a five day stay in La Serena and a visit to the Cerro Tololo InteramericanObservatory (CTIO) and Gemini South to meet with the scientists who collect the data. A presentation of the results will take place back in Cambridge, MA at the "Data Science Symposium" at Harvard's SEAS (24 Jan 2014).
Eligibility:
Senior undergraduates and graduates Chilean students as well as graduate degree students at Harvard's School of Engineering and Applied Sciences (SEAS) are invited to apply.

A background in astronomy is not required, but students must have experience in at least 

one of the following: programming, statistics, and/or mathematics.
Application:
Those students interested in applying, should send their CV and write to 

Francisco Forster francisco.forster(at)gmail.com

Application deadline: 12:00 noon Friday 6 December 2013
Date: Jan 08, 2014
Date of closure: Jan 22, 2014

Posted on Dec 4, 2013 in Events, Workshops & Congresses