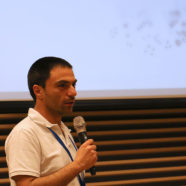 Daniel Remenik, principal researcher at the Center for Mathematical Modeling (CMM) of the University of Chile, was the only Chilean on this occasion to give a talk at the International Congress of Mathematicians (ICM), the largest in the world and that every four years brings together leading researchers from around the world thanks to the support of the International Mathematical Union (IMU). On this occasion it was to be held in Russia, but due to the contingency it had to be held online.
The mathematician gave the talk "Integrable fluctuations in one-dimensional random growth", as part of the section dedicated to Probability.
"It is an honor in the career of a mathematician to be invited to give a talk at the congress and it was also an opportunity to present my work, which is in the area of probability in problems that come from mathematical physics, specifically in an area that is known as the KPZ universality class, which studies a very broad class of problems that have a common statistical description," Remenik said.
These problems, derived from physics, describe the random growth of a one-dimensional interface. "The most typical example is if I grab a piece of paper and burn it, it's never going to burn uniformly. The combustion front starts to advance and what you want to study is to try to understand the statistical behavior of that front. The front defines a curve that evolves in time, and the question is how do I describe that curve? Now if I take another piece of paper, perhaps of a different shape, it will have a similar behavior, but it will not burn in exactly the same way, and then one of the goals is to describe those differences", explains the researcher and adds that "for phenomena such as this and many others there is a common description".