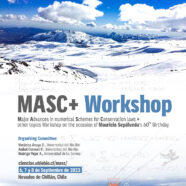 Workshop on the ocassion of Mauricio Sepúlveda's 60th Birthday
Hotel Nevados de Chillán, Chillán, Chile
September 6-8, 2023
The Organizing Committee is proud to invite to the MASC+: Major Advances in numerical Schemes for Conservation laws + other topics, Workshop on the ocassion of Mauricio Sepúlveda's 60th Birthday.
The Conference will be held at Hotel Nevados de Chillán, Chillán – Chile, September 6-8, 2023, and is devoted to recent advances and developments in Mathematical Analysis and Numerical Analysis of Partial Differential Equations.
We encourage you to register soon, as the number of participants is limited. Please contact: vanaya@ubiobio.cl
The official language for this event is English.
Organizing Committee
Verónica Anaya D., Universidad del Bío-Bío, Chile
Anibal Coronel P., Universidad del Bío-Bío, Chile
Rodrigo Vejar A., Universidad de la Serena, Chile
Confirmed Speakers
Verónica Anaya D., Universidad del Bío-Bío, Chile
Raimund Bürger, Universidad de Concepción, Chile
Marcelo Moreira Cavalcanti, The State University of Maringá, Brazil
Valéria Domingos Cavalcanti, The State University of Maringá, Brazil
Jessika Camaño, Universidad Católica de la Santísima Concepción, Chile
Eduardo Cerpa, Pontificia Universidad Católica de Chile, Chile
Carlos Conca, Universidad de Chile, Chile
Aníbal Coronel, Universidad del Bío-Bío, Chile
Wellington J. Corrêa, Technological University of Paraná, Brazil
Luis Gatica, Universidad Católica de la Santísima Concepción, Chile
Aissa Guesmia, University of Lorraine, France
Sergio Gutiérrez, Pontificia Universidad Católica de Chile, Chile
Fernando Huancas, Universidad Tecnólogica Metropolitana, Chile
François James, University of Orléans, France
Felipe Jara, Transsa Consultores, Chile
Felipe Lepe, Universidad del Bío-Bío, Chile
David Mora, Universidad del Bío-Bío, Chile
Ricardo Oyarzúa, Universidad del Bío-Bío, Chile
Marie Postel, Sorbonne University, France
Rodrigo Vejar, Universidad del La Serena, Chile
Luis M. Villada, Universidad del Bío-Bío, Chile
Date: Sep 06, 2023
Date of closure: Sep 08, 2023
Venue: Hotel Nevados de Chillán, Chillán, Chile

Posted on Jul 31, 2023 in Workshops & Congresses